Traditional Braces
Do you look in the mirror and wish your teeth were more aligned? If so, there may be options for you that you haven't considered. At Magical Smiles, we want you to have access to the dental care you need. Our warm, friendly team is waiting to welcome you into our comfortable environment!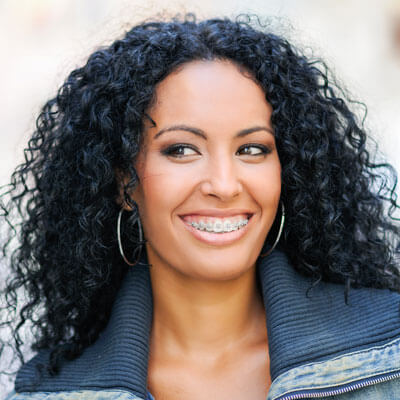 Why Choose Traditional Braces?
There's a good reason that traditional braces have been around for so long. Sure, there are alternatives available, such as Invisalign®. Though we offer those, too, there are several advantages to choosing traditional braces:
Affordable
Appropriate even for severe oral health concerns
Can be used by teenagers and adults
Predictable results
Reliable outcomes
What to Expect in Getting Traditional Braces
Your first step in getting braces is to have a consultation with our friendly team. We'll meet with you and evaluate your teeth, as well as discuss what you would like to achieve. We want to make sure that traditional braces are the most appropriate option for you before moving forward. If we feel that you can benefit more from any other service, we'll be sure to discuss that with you.
Once you've decided on having traditional braces, we'll plan out your procedure. Each bracket is precisely placed on your teeth. The braces are attached by a wire. The wire is tightened periodically so that your teeth will continue to shift into the proper position. Your periodic checkups with us will take place about every six weeks.
Frequently Asked Questions
There are two parts to traditional braces: the metal brackets and the wire, called the arch wire. The arch wire connects every bracket on your teeth and applies a pressure to them. The teeth are then pushed into place from this pressure. You may also have a ligature elastic or rubber band that keeps the arch wire over the brackets.
What can metal braces address?
One of the most fantastic aspects of traditional braces is that they can correct such a broad array of problems, such as:
Gapped teeth
Overcrowded teeth
A misaligned bite
What is the disadvantage of having metal braces?
The downside that some dislike is the longer treatment times, which can take up to two years to complete. There are, however, choices in brackets such as different colours that aren't as noticeable as they used to be. It can take time to get used to your braces, but you should be used to them within a couple of weeks of wear.
Taking Care of Your Braces
You want your braces to be problem-free for you. We don't want you to have to come in any more often than necessary. There are a few different tips that we can give you so that your braces are well taken care of:
Don't eat crunchy, hard or chewy foods. You'll receive a full list of foods that you should avoid from us.
Brush and floss regularly. You must carefully clean around your braces so that you don't have a higher risk of decay, gum disease or staining. We'll teach you the techniques you need for proper cleaning.
Make your follow-up appointments. We'll get you booked in for your periodic checkups. These allow us to tighten your braces and monitor you to ensure you're making progress.
Book Your Consultation Today
Contact our team today to learn more about traditional braces Caroline Springs! We have convenient Saturday hours available.
CONTACT US
* Any surgical or invasive procedure carries risks. Before proceeding, you should seek a second opinion from an appropriately qualified health practitioner.

Traditional Braces Caroline Springs, Taylors Hill, Taylors Lakes VIC | (03) 8358 2565