Tooth Extractions
Tooth Removal in Caroline Springs
Sometimes the best thing for your overall smile is to remove severely damaged or infected teeth. If a tooth is non-restorable, we'll recommend an extraction even if you're not in pain. Being proactive about oral surgery helps to delay secondary infections, pain and the possibility of dental emergencies.
Types of Tooth Extractions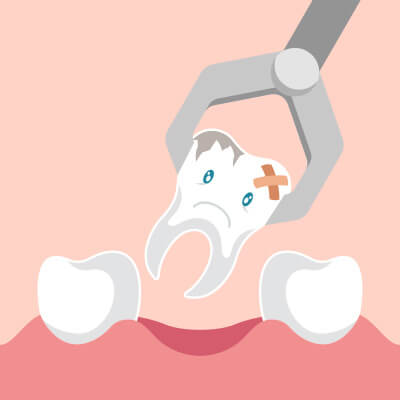 Not all forms of dental extractions are the same. Different types of tooth removal determine the length and cost of your procedure, based on factors such as oral anatomy and extent of damage in that area. Everything from the number of roots that a tooth has to if there is dense bone will come into play. Some of the different forms of extractions we offer in our practice include:
Simple Extractions — When a tooth is already mobile and moving when pressure is applied, a simple extraction will do. This type of procedure is fairly easy and quick to complete.
Surgical Extractions — Sometimes a tooth is still structurally sound, making it more challenging to remove. During a surgical extraction we section the tooth into two or more pieces before taking it out. This technique protects the bone around your tooth and ensures a more predictable procedure.
Wisdom Tooth Removal (Oral Surgery) — Impacted third molars can damage the other teeth in your mouth and cause crowding/tooth movement. They're usually removed if the tooth is partially erupted or difficult to clean. Proactive extractions bypass the risk of damage in your neighbouring teeth.
Sedation During Extractions
We offer a variety of sedation options during oral surgery and extractions. Since your comfort is vital to the success of the procedure, you'll be able to select the level of sedation and option that's best for you. They range from light happy gas (nitrous oxide) to general anaesthesia with an anaesthetist, and everything between.
If you require sedation during your appointment, you'll want to be sure to have a friend or family member accompany you to the visit. The drowsiness of deeper sedatives can last for several hours. However, with happy gas it's possible to drive yourself home afterward.
After Your Tooth Removal
Removing a tooth is just the first step in stabilising your oral health. Now that there's extra space in your bite, your surrounding teeth will start to shift and move out of place. To preserve proper tooth spacing, we recommend replacing your tooth in a timely manner.
Some of the types of tooth replacement options available include dental implants, fixed bridges and removable partials. We'll discuss the various options with you ahead of time, so that you can plan accordingly. After you have all of the information you need, you can make an educated choice about your smile's future!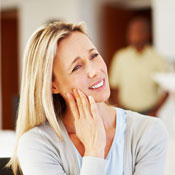 Do I Really Need an Extraction?
Leaving an infected tooth inside your mouth can allow disease to spread to adjacent teeth. Chronic periodontal disease and cavities are bacterial infections, which are not isolated to specific teeth. If we feel that a tooth is severely infected to the point of removal, it is partially in effort to prevent damage to your surrounding smile.
Request a Consultation Today
Need a tooth pulled? Ask about our comfortable sedation options. Book an exam today.
CONTACT US
* Any surgical or invasive procedure carries risks. Before proceeding, you should seek a second opinion from an appropriately qualified health practitioner.

Tooth Extractions Caroline Springs, Taylors Hill, Taylors Lakes VIC | (03) 8358 2565