Sedation Dentistry
Going to the dentist can make a lot people feel nervous, especially if they've had bad experiences in the past. Dental anxiety may even be severe enough that it prevents you from getting the treatment you need.
To help our patients feel comfortable at Magical Smiles, we offer a variety of in-house sedation dentistry options. Each method offers benefits like improved relaxation and decreased sensitivity. When you feel at ease, we're able to work more efficiently and complete your care in fewer appointments.
Types of Dental Sedation
During your exam we'll discuss the sedation that's best for your given situation. Depending on your age, health background, comfort level and needed procedure, you can consider options like: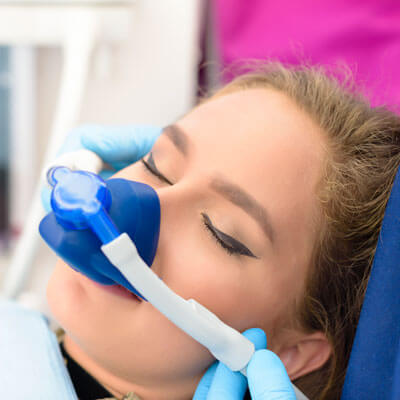 Nitrous Oxide — Happy gas is mild and effective, yet quickly reversible. It can be added onto practically any procedure. Since the results wear off in a matter of minutes, it's safe to drive yourself to and from your appointment.
Oral Sedation — For a deeper and more relaxed state, oral conscious sedation is the next step. You'll take a prescription medication an hour before your planned treatment, causing you to feel sleepy and possibly nod off. The amnesic effects of conscious sedation prevent some people from remembering their appointment altogether.
General and IV Sedation — A licensed anaesthetist will administer a deeper sedative medication via an IV line. IV sedation maintains semi-consciousness, while general anaesthesia makes it feel like you're sleeping. Both are fast acting.
Aside from happy gas, other types of dental sedation will cause lingering drowsiness that takes a few hours to wear off. You'll need to plan on a friend or family member to provide transportation to and from our practice.
"Why Should I Get Sedation?"
We want to change the way people feel about visiting the dentist. Helping you feel more confident and comfortable is essential to providing the best care possible. With sedation dentistry, even the most severe dental phobia situations can be handled gently.
You may want to consider adding sedation onto your next procedure if you have complex treatment needs. Some examples include root canal therapy, wisdom tooth removal or tooth extractions.
A Safe Alternative for Our Patients
We're here to change the way you feel about going to the dentist. During your exam and consultation, we'll walk you through the advantages of each sedation option to find the one best for your situation. It may be that you would do better with a lighter sedative than someone else or have medical concerns that prevent choosing a deeper medication.
Be sure to bring a copy of your current medications, as well as a list of recent surgeries or hospitalisations you've had. If necessary, we can talk with your primary care physician to discuss the type of sedative best for your situation.
Request a Consultation Today
Learn how safe dental sedation can help you breeze through your next appointment. Contact us today to plan your next visit.
CONTACT US
* Any surgical or invasive procedure carries risks. Before proceeding, you should seek a second opinion from an appropriately qualified health practitioner.

Sedation Dentist Caroline Springs, Taylors Hill, Taylors Lakes VIC | (03) 8358 2565