Scale and Cleans
A healthy smile starts with regular preventative dental care. Regular scale and cleans remove buildup that's accumulated since your last checkup, giving you a blank slate to maintain until your next visit.
For our healthy patients, we recommend a scale and clean every six months. These routine scale and cleans are designed to help prevent gum disease and manage minor issues such as gingivitis. Planning a regular cleaning twice per year allows us to intercept dental problems at their earliest stages. That way if you need treatment, it's less invasive to your teeth and more affordable in the long run. During your visit we'll also screen for:
Tissue loss
Bone resorption
Oral cancer
Orthodontic concerns
TMJ disorder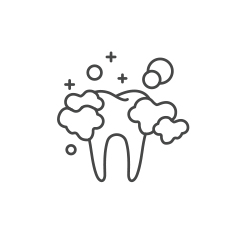 If it's been more than 1-2 years since your last visit, there's a good chance that you have significant buildup that needs to be cleaned away. During a deep cleaning we will use a local anaesthetic to numb your gums before debriding the tartar underneath them.
If you need any help cleaning specific areas or around fixed restorations, we'll show you techniques and tips to keep your smile as healthy as possible.
Are your gums red, inflamed or do they bleed easily? Active periodontal disease causes tooth loss and is dangerous to your overall health. During a laser cleaning we will numb your mouth, perform a deep cleaning, then use light amplified technology to eradicate active infection under your gum tissues.
Laser treatments speed healing and facilitate gum reattachment in areas of tissue loss. It's an advanced procedure that can mean the difference in saving your smile. LANAP (laser assisted new attachment procedure) can help our patients with gum disease avoid permanent tooth loss. Not only does it destroy dangerous bacteria, it also stimulates bone regeneration around your teeth.
Symptoms of Gum Disease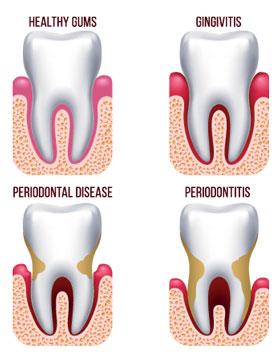 Periodontal disease is an oral infection that can spread from your mouth to other parts of your body. Studies show that the more severe a gum infection is, the harder it is to manage conditions like diabetes, cardiovascular disease, respiratory infections, preeclampsia and infertility. Knowing the signs can help you spot an infection earlier, making your treatment more effective. Watch for symptoms like:
Swollen gums
Receding gumlines
Tartar buildup
Bad breath
Bleeding when you brush or floss
Tooth mobility
Spaces between teeth
Red gums
What Does Your Smile Need Most?
During your checkup we'll perform a periodontal evaluation and take measurements around each tooth. From visit to visit, we'll monitor these levels to detect changes in your oral health. If treatment is needed, we'll review the best choices with you so that we can co-plan your care appropriately.
Complimentary Teeth Whitening
Our teeth whitening program includes free professional gel for as long as you maintain your six-month checkups! When you arrive for your scale and clean twice per year, we'll include a refill of our take-home whitening gel so that you can keep your smile bright for life.
Are You Due for a Scale and Clean?
Since most dental concerns are preventable, these routine visits are crucial to your dental wellness. Has it been six months or more since your last checkup? Make an appointment today.
CONTACT US
* Any surgical or invasive procedure carries risks. Before proceeding, you should seek a second opinion from an appropriately qualified health practitioner.

Scale and Clean Caroline Springs, Taylors Hill, Taylors Lakes VIC | (03) 8358 2565