Laser Gum Depigmentation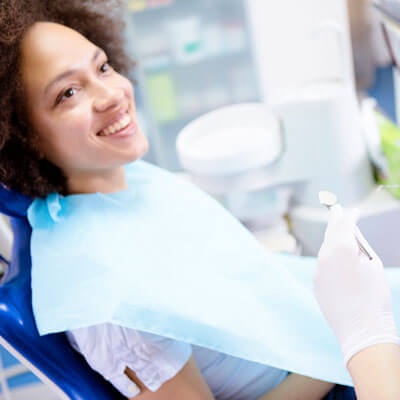 Do your dark gums leave you feeling too self-conscious to smile? At Magical Smiles, we offer laser gum depigmentation, which is a cosmetic procedure that lightens the colour of gums. Highly effective, this method will lighten your gums to a healthy, pink shade!
What Causes Dark Gums?
The technical term for dark gums is gingival hyperpigmentation. Dark gums are associated with different factors. Some of these factors include a person's cultural background or an imbalance of gum pigment. Tobacco use and the side effects of certain medications also can temporarily discolour the gums.
What Is Laser Gum Depigmentation?
Laser Gum Depigmentation is a gum lightening procedure that uses a laser to lighten the colour of the gums. Depending on how light you would like your gums to be, the gums can go from a very dark brown hue to a pleasing pink shade in just one procedure. If, after one visit, you haven't reached the desired pink gums, you can come in for subsequent treatments.
Benefits of Laser Gum Depigmentation
Achieve significantly lighter, uniform colour in one appointment
No scalpel use or stitches are required
Little or no pain is reported during or after the procedure
The healing time is relatively short
The laser is safe for soft tissues
Many patients can return to work the same day
How Does the Procedure Work?
Laser gum bleaching is a simple, quick and painless procedure. The laser traces over the dark pigment, removing the dark layer of gums from the gum's surface until we reach your desired shade. We can perform the gum depigmentation procedure on a small spot or an entire surface area of the gums.
With little to no recovery time required, you can enjoy a brighter smile with pink gums. To ensure your complete comfort, we can give you a local anaesthetic injection before beginning. The procedure is performed in a relaxed and comfortable environment by our highly trained staff using the latest advance technology.
FAQ
Who is a candidate for laser gum bleaching treatment?
To be eligible for this treatment, you need to have healthy gums. If you're not sure if your gums are healthy, your dentist can perform an assessment during a free consultation.
You should notice lighter gums in less than two days.
How long does the gum bleaching treatment last?
A single gum depigmentation treatment can last on an average from one and a half to three years! In some cases, it can last much longer than 3 Years. Recurrence varies for each individual and if it reoccurs, retreatment may be necessary.
How long does the treatment take?
The procedure takes approximately 20 minutes depending on the colour and size of the dark patch.
What happens if I still have a few pigments left once the gums have healed?
On your review appointment, we can go over the areas where you can still see some pigmentation.
Book an Appointment
If you'd like to improve the appearance of your smile with laser gum depigmentation and gain pink gums, contact our Caroline Springs dental office today to schedule an appointment!
CONTACT US
* Any surgical or invasive procedure carries risks. Before proceeding, you should seek a second opinion from an appropriately qualified health practitioner.

Laser Gum Depigmentation Caroline Springs, Taylors Hill, Taylors Lakes VIC | (03) 8358 2565