Invisalign®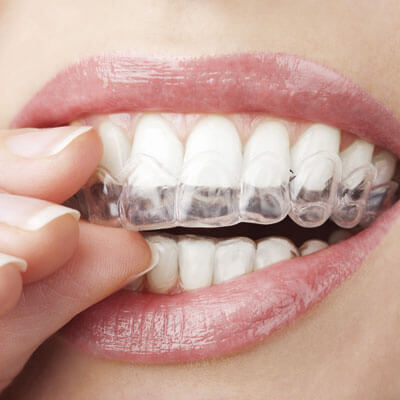 Have you ever felt like you wanted to hide your smile? If your teeth are gapped, overcrowded, overlapping or your bite doesn't line up, it can have a tremendous effect on how you feel about yourself. We can give your self-confidence a well-deserved boost with Invisalign. This revolutionary orthodontic system is virtually invisible, so nobody has to know you're wearing it.
What Is Invisalign?
Invisalign is a way to straighten your teeth and gain the more aligned smile you'd love to have. You won't have to put your life on hold when you choose to have Invisalign. There is no metal involved, so it's comfortable to wear. It works by using a series of clear aligners. Each aligner set is changed at regular intervals and will gradually shift your teeth into the desired position. Your aligners are custom-created for you and can be removed to eat, brush and floss or for a social event.
Why Choose Invisalign?
There are several aspects that you'll want to consider when you choose Invisalign for your orthodontic system:
Ease and convenience:  You can remove them and they're comfortable to wear. You won't have to worry about tooth decay, avoiding certain foods or wearing braces for a special occasion.
Improved oral hygiene:  With traditional braces, you can have difficulty cleaning around the brackets and wires. There are no such worries with Invisalign!
Visible results:  You'll likely start to see your teeth shift within just a few months.
No lifestyle changes: Since Invisalign is convenient, you won't have to make any major changes to have orthodontic treatment.
Comfortable: Since no wires or brackets are involved, people love the comfort involved in Invisalign.
Predictable: With SmartForce and SmartTrack technology, we can predict your expected outcomes.
Fewer dental checkups: You'll only need to visit us every 6-8 weeks to make sure that you're progressing as you should.
What to Expect When Getting Invisalign
Once you've decided that you want to learn more about Invisalign, visit us for a consultation. You and your dentist will discuss what you would like to achieve and if Invisalign is right for you. If so, we'll move forward with a two-step process.
We'll take X-rays, scan and photos. This data are used by the Invisalign laboratory to customise your 3D treatment plan. From the information, they'll create your individualised aligners.
You'll pick up your aligners from us and begin wearing them. Each set is changed about every two weeks. You'll see us for regular checkups during your treatment.
When you've completed your treatment, we'll fit you for a retainer. A retainer will lock in the proper position your teeth are now in so that you can maintain your gorgeous new smile.
Frequently Asked Questions
How is Invisalign different than traditional braces?
What traditional braces and Invisalign have in common is that both are used to straighten your smile. The differences are numerous, however. Invisalign is nearly invisible and there are no brackets or wires. The treatment times may be shorter. You also won't have to worry about teeth decay or cleaning around your braces, since Invisalign is removable.
Will I know what results I can expect?
Yes. We'll show you each stage of treatment up until the end so that you know what to expect and how long your treatment will take.
How often do I need to have checkups for Invisalign?
We'll see you ever 6-8 weeks. If you have traditional braces, it would be every 3-4. Invisalign is an excellent choice for people who find it challenging to come in for appointments.
Schedule Your Visit Today
Would you like to learn more about Invisalign Caroline Springs? Contact us today to schedule your consultation! We have free parking on-site for your convenience.
CONTACT US
* Any surgical or invasive procedure carries risks. Before proceeding, you should seek a second opinion from an appropriately qualified health practitioner.

Invisalign Caroline Springs, Taylors Hill, Taylors Lakes VIC | (03) 8358 2565