Dental Implants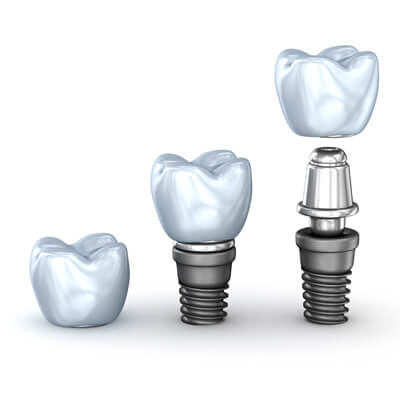 At Magical Smiles, we want everyone to love showing off their smile. If you've lost a tooth, it's not just about having an open space in your mouth. You may feel like you lack self-confidence or avoid being in pictures because you don't want other people to see that you're missing teeth.
Why Choose Dental Implants?
In today's modern dental world, dental implants have become the gold standard in tooth replacement. They offer an array of advantages:
Have a high success rate
Don't compromise surrounding teeth
Are easy to maintain
Last for your lifetime
Are made from biocompatible materials
If you aren't interested in denture bridges or dentures, you may want to learn more about whether dental implants are right for you. Unlike bridges and dentures, they don't require any special care. You won't have to remove them or clean them any differently than you do your natural teeth.
The Details of Dental Implants
A dental implant is a titanium post. Strong and stable, it's inserted into your jawbone during a surgical procedure. You'll be comfortably under anaesthetic the entire time. With time, the dental implant is accepted into your jawbone just like the root of a normal tooth. After the site has healed, you can choose to have a crown, dental bridge or a denture attached to the implant. That makes it suitable for replacing a single tooth, multiple teeth or all your teeth.
What to Expect When Getting a Dental Implant
If you'd like to learn more about dental implants, the first step in the process is to have a consultation with our dental team. We'll meet with you to evaluate your oral health and discuss your particular needs. You'll learn about all the possible options that will address your problem, not just dental implants. Once you've settled on dental implants, there is a two-stage process:
You'll have the dental implant surgically implanted in your jawbone. The procedure is completely comfortable for you, as you are under anaesthetic.
After a healing period has passed, you can return to our practice to have a crown, bridge or denture attached to your implant.
Are You a Candidate?
The majority of people are suitable candidates for dental implants. There are several factors to consider, such as your overall health, any medical conditions you have and the medications you currently take. We'll discuss how habits such as smoking and teeth grinding can affect your oral health. We also must make sure that you have enough bone material in your jawbone to receive the implant.
Payment Plans Are Available
We want the dental care you need to be within your reach. We now offer payment plans up to $12,000 with no deposit and no interest for plans over $6000. This could be as little as $50 per week depending on the amount. Please contact us for more information on our payment plans.
SuperCare Cover for Dental Implants
Good news! Did you know dental surgery can be covered by the Early Release of Superannuation? That's right! SuperCare provides a service that makes the application process simple and stress-free for you.

Book Your Consultation Today
We feature free consultations for all cosmetic dentistry services, including dental implants Caroline Springs. Contact us today! Convenient Saturday visits are available.
* Any surgical or invasive procedure carries risks. Before proceeding, you should seek a second opinion from an appropriately qualified health practitioner.

Dental Implants Caroline Springs, Taylors Hill, Taylors Lakes VIC | (03) 8358 2565