Crowns and Bridges
If your teeth are damaged, you want a solution to restore your self-confidence and give you the full function of your smile back. With our high-quality crowns and bridges, you can love the way you look and enjoy the foods you love. Crowns and bridges are custom-made for you, so they'll fit in seamlessly with your natural teeth. They're designed to last for years given the proper care.
What Is a Crown?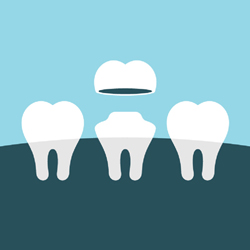 A dental crown is a cap that fits around your tooth, giving it protection and strength. It provides cover or support for damage and can mask flaws such as misshapen teeth, discolouration or chipping. It can be used for restorative or aesthetic purposes.
Our Same-Day CEREC Crowns
We have a CEREC machine in-house at Magical Smiles that allows you to get your crown on the day. Typically, the process involves taking impressions, then waiting for a laboratory to make your crown. With this technology, however, we can gather the information we need, send it to our machine and your crown will be milled at our clinic. The entire process takes 2-3 hours.
Do You Need a Dental Crown?
You may be wondering if a dental crown is what you need to restore your good oral health. The rule of thumb is that if you have less than 40% of your tooth structure remaining, then a crown may be appropriate. You don't have enough structure to use a filling or onlay. Your tooth structure may be compromised due to tooth wear or grinding, cavities, fractures or have a previous restoration that didn't work.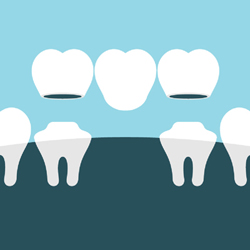 Bridging the Gap
If you are missing one tooth or multiple teeth, you might lack self-confidence. You may find yourself avoiding talking to others or not wanting to have your picture taken. We can fill the space where a tooth has gone missing with a dental bridge.
A bridge is permanently fixed in your mouth, so you won't have to worry about removing it. It's made up of a row of false teeth, with the end ones affixed to teeth on either side of the gap. The remaining teeth are then suspended into the open space. A bridge is a permanent solution. The only consideration you'll have to make is carefully cleaning around your bridge to ensure that it stays vital.
Why You Need to Replacing Missing Teeth
In your mouth, your teeth serve different purposes. They're responsible for you getting the nutrients you need by chewing. Your smile is also part of who you are, and you may have decreased self-esteem if you're missing teeth. There is, however, another essential reason to replace missing teeth. If you leave a gap, the rest of your teeth will start shifting to make up for the open space. When your teeth move, you may have more tooth decay or lose other teeth as a result.
Same-Day Visits Are Available
Would you like to be seen straightaway? We provide same-day bookings. Contact Magical Smiles today to schedule a consultation for crowns and bridges Caroline Springs or any of our other services!
CONTACT US
* Any surgical or invasive procedure carries risks. Before proceeding, you should seek a second opinion from an appropriately qualified health practitioner.

Dental Crowns and Bridges Caroline Springs, Taylors Hill, Taylors Lakes VIC | (03) 8358 2565